Why Choose Granite countertops?
Your home should be as unique as you are, each element reflecting your own style and personality. It is no surprise that granite, with its stylish, one-of-a-kind appearance, has become the first choice for homeowners across the country.
At Granite Works, we offer the largest selection of granite of any fabricator in the region – you are sure to find the perfect color or pattern to match your décor. When you come to our showroom a member of our team will show you our granite selection, tell you about pricing, and give you a line by line estimate for you to review.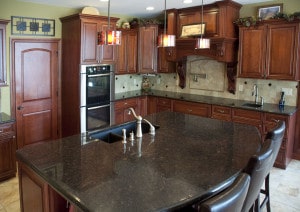 It's All About Looks
Granite has a unique, exotic appearance, and with over 500 different colors available, the design possibilities are endless.
Show Me The Money
Not only does granite catch the eye of potential homebuyers; it is proven to increase the resale value of your home.
The Strong, Silent Type
Granite is one of the hardest stones found in nature, second only to the diamond. Resistant to burns and stains, granite countertops can hold up to the toughest tests in the kitchen.
Please Contact us today to schedule an appointment in one of our granite showrooms. One of our friendly and knowledgeable design consultants will be happy to show you our granite selection and answer any questions you may have!
With unbelievable colors and elegant veining, Marble creates absolutely stunning countertops for your home. Visit one of our showrooms to learn more about marble. Visit our showrooms to find out how our designers can integrate marble into your countertop project for breathtaking results.
As the favorite medium for Greek and Roman sculptors and architects, marble has become a cultural symbol of tradition and refined taste in home applications.
For that sleek and clean look, marble is a great substitute for granite, used for countertops in a kitchen or a master bathroom.
There are several different colors of marble. Some of the more popular ones are White Carrera, Botticino, Calcutta Gold, White Cherokee and Empodora. Color variations are the result of the elements that were present when the stone was formed.
Marble is considered more porous than granite so a little extra care and maintenance is involved but for many homeowners, the beauty and look of marble negates the issue of upkeep.
Soapstone is a metamorphic rock and a very unique and beautiful choice for a countertop. Soapstone is largely composed of the mineral talc and is thus rich in magnesium. This countertop material is desired by many homeowners for its beautiful rich color and smooth texture.
Soapstone is siliceous, meaning it is unaffected and unharmed by acids contained in everyday items like wine, lemons, or vinegar.
Soapstone is heat resistant. Stop worrying about setting a hot pot of noodles down on the countertop.
Soapstone won't scorch or burn.
It is best to treat Soapstone every 6 months with a special mineral oil to enhance the natural darkening process all soapstone goes through.
Cleaning a Soapstone countertop is simple and can be done with any ordinary household cleaners. Be sure to avoid cleaners containing grit or elements which could create scratches.
Viatera® Quartz by LG is a beautiful nonporous, hygienic and stain resistant material. Being a nonporous product makes it very easy to maintain by not ever having to seal and just simply keeping it clean with soap and water. So, it is approved for use in food service, medical facilities, schools, hospitality and other businesses where long-lasting durability, hygiene and design flexibility are essential. Viatera Quartz was created with 93% natural quartz, the fourth hardest mineral on earth, and 7% technologically advance polymers.
The Viatera color palette contains colors that go from a very soft and serene look to a very passionate and intense look with over 30 colors to choose from making your countertop project very beautiful, functional and eco-friendly. The manufacturing process of Viatera melds nature and modern technology into an unparalleled surfacing material. Since Viatera incorporates all-natural quartz mined from the earth, there may be slight color variations and particulate concentrations, just as in natural stone surfaces. It's all part of the authentic look Viatera.
Viatera Quartz comes with a 15 year limited transferable warranty.
CaesarStone was founded in 1987, as the original quartz surface. It is manufactured from 93% natural quartz, and high-quality polymer resins, and pigments and then molded into non-porous slabs of Caesarstone. Caesarstone is a good option for consumers looking for consistency for Caesarstone vanity tops, Caesarstone kitchen countertops, etc.
Caesarstone carries over 70 color options, textures and finishes. Please contact PGC with any questions you may in regards to colors, or Caesarstone's Residential Lifetime Warranty.
Silestone was first introduced into the market 20 years ago, and includes more than 50 color options. Silestone offers a sophisticated elegance and look all its own. The natural quartz in Silestone delivers distinctive depth, as well as a brilliant clarity, etc.
Versatility
Silestone can be used in a variety of applications including Silestone kitchen countertops, Silestone bathroom vanities, island tops, wet bars, Silestone tabletops, etc.
Scratch Resistant
The quartz in Silestone makes it naturally scratch-resistant. Only three other natural minerals – diamond, sapphire and topaz – are harder than quartz. Quartz is a seven on Mohs Hardness Scale (diamond is a 10).
Stain Resistant
Silestone is non-porous and so it is highly resistant to stains from coffee, wine, lemon juice, olive oil, vinegar, makeup, and many other common household products.
HanStone™ is an innovative product that combines natural quartz, with high quality polymer resin and pigment to produce a durable and luxurious stone surface.
HanStone is non-porous and requires no sealing. It is also stain-resistant, heat-resistant and easy to maintain. It has also been tested and certified by the National Sanitation for Food Safety and Food Contact under the NSF 51 Certification.
Colors
HanStone™ comes in 36 rich, stylish colors and patterns.
Warranty
HanStone™ is backed by a 10-year warranty.
Our collection of premium sinks is an extensive array of the most sensible, durable, and desirable products offered in the market.
Whether your tastes call for contemporary or industrial stainless steel or you favor the warm traditional look of a granite sink, we've got it. Visit our showroom or click on the links below to view the many different sinks that we offer!

 We offer a wide selection of upgraded edges on our products that are not shown above.
Should you desire something more unique, we would be happy to assist you. We have true granite artist that are aided by state of the art CNC cutting machines.
Please visit our showroom or call 218-626-1625 for details and to select the edge that's right for you.